COUGH MONITORING WITH STRADOS LABS
Cough and Lung Sound  Measurement
Improving research with clinical quality measurement of respiratory symptoms in daily life 
FDA 510(k) cleared | CE mark | GDPR compliant | HIPAA compliant
Technology Overview

Strados Labs' RESP Biosensor remotely captures 24-hour cough and lung sounds (wheeze, crackles, rhonchi), offering clinical trialists objective data to supplement patient self-reporting
Reduces site and patient burden with its wireless, lightweight design and seamless data sync to the cloud
Allows for additional insight into how therapies perform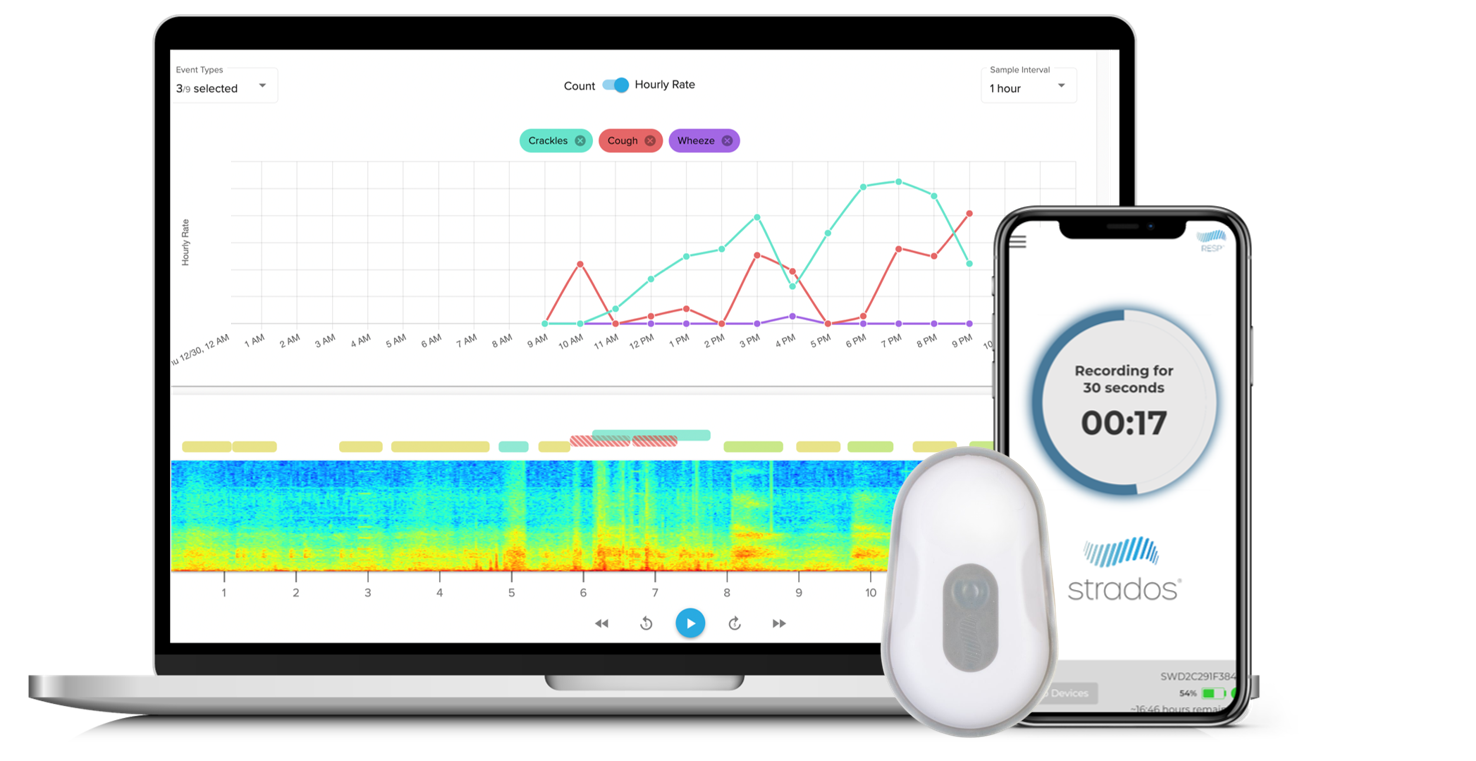 RESP Biosensor Measurements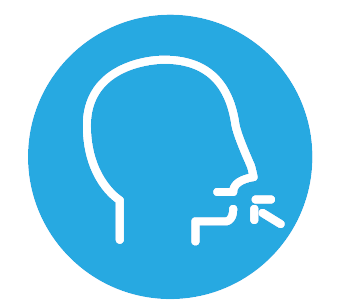 Cough
Frequency and Intensity
Lung Sounds
Wheeze, Rhonchi, Crackles
Additional Measures*
Respiratory rate, Activity level, Sleep/Wake
*Not yet cleared by the FDA
The RESP Biosensor offers a patient-friendly, efficient approach to 24-hour ambulatory cough monitoring from screening subjects to the research phases. Our consensus labeling process ensures the highest level of accuracy in coughs counted. Additional parameters include cough intensity, activity* and sleep/wake.* 
Coughing and lung sounds such as crackles are strongly associated with IPF and ILD. The RESP Biosensor enables 24-hour monitoring of these symptoms to help researchers gain objective insight into treatment response in addition to subjective tools such as VAS and the Leicester Cough Questionnaire.
Cough is one of the primary symptoms of bronchitis with 24-hour cough monitoring frequently used to demonstrate treatment efficacy. The RESP Biosensor offers a more patient-friendly approach to cough monitoring for bronchitis with the ability to capture additional insights.
The RESP Biosensor allows researchers to objectively measure cough, lung sounds including wheeze and shortness of breath* in patients with COPD and Asthma, supplementing traditional measures such as spirometry and the COPD Assessment Test, Asthma Control Questionnaire, and the St. George's Respiratory Questionnaire.
Infectious diseases such as COVID-19 and RSV impact the lungs and produce symptoms such as coughing, wheezing and shortness of breath. The RESP Biosensor can offer additional insight into how infectious disease therapies perform by measuring their impact on respiratory health.
Respiratory-related symptoms such as coughing, wheezing, and shortness of breath as well as fluid buildup are extremely common in Heart Failure. The RESP Biosensor offers an objective way for clinical trialists to measure these symptoms.
*Measurement not FDA-cleared
Patient recordings are transferred to the cloud for processing and analysis by our team. Proprietary machine learning algorithms are used to provide varying levels of automation in the annotation process.*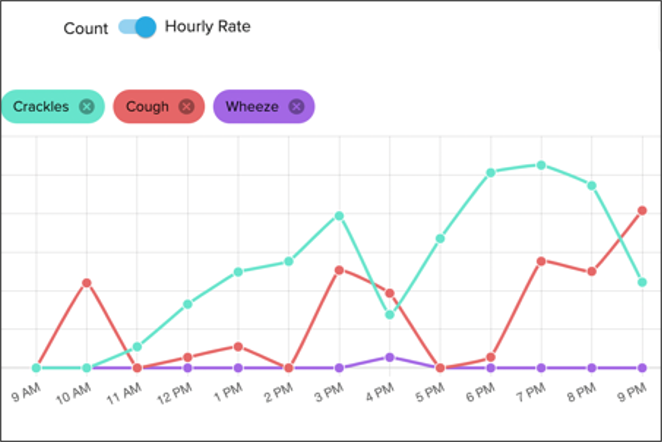 *Machine learning algorithms not cleared by FDA
Request a Demo
Explore partnering with us for your next trial